Rules
If you tried to sign in your account and faced with the message: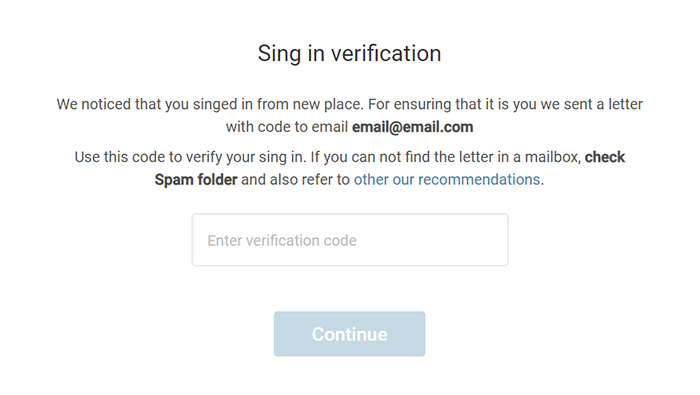 This means that your account has two-factor authentication enabled, that protects your account from unauthorized access..
To sign in, enter the code from the letter and click the "Continue" button.
WHAT TO DO IF A LETTER WITH A CODE DOES NOT COME:
● Make sure that the email which you tried to sign in your account matches the email which you expect to receive a letter with a code. Make sure that email domain names (.com, .ru, .ed, etc.) also match.
● Check your Spam folder. If an email with a code got into spam, be sure to mark the letter as not spam in order to prevent emails with a code from getting into spam in the future.
● Wait 15 minutes from the sign in attempt moment. Sometimes there are delays on the recipient mail client side and letters arrive late.
If the above steps do not help you, please contact technical support.
WHAT TO DO IF YOU DO NOT HAVE ACCESS TO THE EMAIL WHICH IS REGISTERED AS EMAIL TO GET EMAILS FROM 3DKY:
You need to update your email to the current one - for this, send the following information to the technical support address support@3dsky.org:
● Old email that is linked to your account and which you want to change
● New email that you want to link to your account
● One of the following documents, so that we understand that the account belongs to you:
Or a receipt for payment for one of the PRO-access purchases. It can be a screenshot of a transaction from the bank, containing the amount and date of the transaction, your full name and the last card numbers.
Or a photo of any document confirming your identity, such as a passport or driver's license. We only need first name, last name and country of residence. You can hide the rest of the information.
HOW TO ENABLE OR DISABLE TWO-FACTOR AUTHORIZATION:
1. Go to your Profile
2. Click the "Edit" button
3. Take off or put in a tick in the checkbox "Use two-factor authentication"
4. Click the "Save" button